Camping La Masía Tarragona (

La Masía Tarragona

4.08

Stars Of a total of

17

valuations )
Address: Ctra. N 340, km 1.121 (Tarragona)
Access: L'Almadrava
GPS: +40º56'25'' / +0º51'24'' see camping on the map
Telephone: 0034 977 82 05 88 / 977 82 31 02 • Opening: 1/2 Al 30/11 • Plots: 264 • Extension (m²): 27000
Orography playa, montaña • Distance from the beach: pie de playa • Distance from train station: 10 km - Bus: 0 m

staying at this camping camping website reviews and user ratings
Information on camping
LA MASIA is more than a Camping-Resort ***, it's a place to connect with your emotions. Our campsite is located on the seafront, with beautiful bungalows, swimming pools, a large events room, restaurant, spa, sports courts, etc., and a wide range of entertainment activities designed for you and your family and friends. We are located in the natural setting of L'Almadrava beach, with direct access to a beach with turquoise and crystal-clear waters, quiet and secluded, where you can go for a walk, swim, get tanned, relax or practice different water sports and mindfulness (yoga, tai chi, Pilates, etc.). The countless green areas surround our spaces with vegetation. Our fully equipped bungalows and mobile homes (air conditioning, heating, bathroom, living room and kitchen, with 1, 2 or 3 bedrooms to accommodate between 2 and 6 people) will evoke paradisiacal landscapes. We offer thematic accommodations, such as our Hipster Caravans and Africa Experience to enjoy original breaks and holidays. You can choose from a wide range of accommodations divided by thematic areas. In the seafront bungalows, the sea will be the first thing you'll see when you wake up. Our Events Team designs and organizes a wide variety of entertainment activities for all ages during holiday periods and thematic events, as well as content and activities for all kind of events. In addition, we offer a full list of activities outside the campsite designed especially for you: local excursions, theme parks tickets, cultural visits and natural sightseeing. The Resort concept offers great advantages, such as first quality facilities, where all your needs will be met with security and comfort. Camping La Masia is the ideal spot to enjoy your holidays, a thematic weekend or to celebrate personal, professional and school events. Experiences LA MASIA, it connects with your emotions!
To know about Costa Dorada
The Gold Coast is an area with a great seafaring tradition. It is situated in the south of Catalonia and has long beaches, with dunes of fine sand. Its 13 municipalities that stretch along 92 kilometers sixty beaches offer everything from small coves in Mont-Roig del Camp - Miami Platja, Torredembarra cliffs, or a high percentage of iodine in the area Vendrell - Coma-ruga, with fine sand and shallow in Salou, and even nudist beaches like Playa del Torn de l'Hospitalet de l'Infant. The Costa Daurada offers unexpected value to the visitor interested in nature. The network of protected areas includes a surprising variety of landscapes and high biodiversity.
Services and activities offered by the camping and area businesses
Access for handicaped,
Motorhome Service Station,
Laundry,
Caravan Water Take,
swimming-pool,
Hot water shower,
Restaurant,
Playpen,
Electric socket,
Medium shade,
internet,
Bar-Café,
Supermarket,
Caravan water-drain,
Bungalows,
Surface Fishing,
Golf,
Trekking,
wifi,
Horse Riding,
Tennis,
Bike Rental,
Alpinism,
Submarine fishing,
Adventure Sports,
Entertainment,
gym,
Spa,
Camping rates and prices
Pet. Price 3.1 €
| | | | |
| --- | --- | --- | --- |
| Price | High Season | Mid Season | Low Season |
| Adult | 8.2 | 6.12 | 5.1 |
| Child | 4.1 | 4.1 | 2 |
| Car | | | |
| Motorbike | | | |
| Caravan | | | |
| Motorhomes | | | |
| Tent | | | |
| Plots | 23.9 | 18.8 | 9.7 |
| Electricity | 5.1 | 5.1 | 5.1 |
These prices include VAT and tariffs correspond to your listing you provided.
Prices do not include tax, which is applied in some regions.
Is recommended to confirm these prices with the establishment.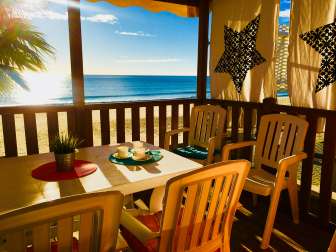 book a bungalow in La Masía Tarragona
Contact the camping La Masía Tarragona